SEO analysis is like a Sherlock Holmes story where Sherlock and doctor Watson investigate a murder.
It's the part when Sherlock goes quiet for a minute, not responding to questions from the good doctor.
He is trying to piece together all the information he has gathered and come up with a solution to the case.
Doing an SEO analysis on a website is a similar thing, except that you are not working with dead bodies.
So, What is SEO Analysis?
SEO analysis is a method of analyzing SEO (Search Engine Optimization) data in order to formulate a digital marketing strategy.
This strategy will help your website rank better in the future in the search engine results for a given topic.
The analysis includes different SEO metrics like:
Your Current SEO Ranking
Your SEO ranking at that moment is the starting point.
The goal is to increase this ranking by implementing different SEO strategies, which will increase your ranking in search engine results pages (SERPs).
This way you will get more search volume, which means drive traffic and hopefully boost your sales.
BTW when we talk about SEO we usually talk about organic traffic we get.
Content on Your Website
The content of your website (the text and images) is very important in calculating your SEO score because the phrases that you repeat most often in your articles or your copy become your keywords.
Google finds these keywords through its algorithm when it scans your website and then it rates your website and puts it in a proper category, assigning it an SEO score.
So, proper and relevant content that serves the needs of your customers is very important for SEO.
Content together with keywords and website architecture is what is called on-page SEO.
It is called like that because all your results depend on changing your SEO on your website, contrary to the off-page SEO which is things you do outside of your website like getting backlinks from other websites.
Keywords Research
Keyword research is tightly connected with the content part but it's more specific.
You can have great content, but you might have written it with the wrong keywords and because of it nobody is reading it.
Let me explain, for every topic there are keywords that rank good and keywords nobody is searching for.
When writing your content you have to include a variety of keywords that Google will lately rank you for.
You should have some popular keywords and some that are not so popular but are easy to rank. But most important they all should be relevant for the topic that you are writing about.
We find these keywords by using keywords research tools which usually are part of online SEO software. We will recommend some free SEO tools below.
Website Architecture
When we talk about website architecture we talk about the structure of how your website is set up and the different HTML elements that are used.
These are mainly technical things like using your header tags and meta descriptions or making sure your images are all named correctly and are under 200KB so your website will load faster.
Main metrics for website architecture are your website speed and the proper description and etiquette for different HTML elements.
These two things enable Google to read and index your website faster and be able to come back to your content and take the needed information so it can match it with the searched topic.
Backlinks to Your Website
Backlinks are links that run from other websites to your website.
They are very important because through them you get authority which increases your SEO score.
When someone links your website's content Google automatically recognizes your content as more authoritative since someone has referenced it.
It's like if 5 people recommend you a car wash service you will surely think that this is a legit business and the service they offer is good.
Backlinks are a kind of internet SEO recommendations. Some websites will have a natural authority because they are a government agency, or a very famous brand, or a scientific magazine so the content they produce will naturally be more authoritative.
But for small business it's important to have at least couple of backlinks that will testify to it being connected with the community and being legit.
Backlink checkers are great for doing link analysis and making sure you don't have any broken links. Broken links that go from your website to other websites can hamper your SEO ranking.
So, it's important that once you notice that you have a broken link to either replace it with other link that goes to a similar content or remove it altogether.
Competitor Analysis
Competition is crucial in SEO analysis because it shapes the whole strategy of how you position yourself and which SEO tools you use to beat your competitors.
All the previous metrics we mentioned are important but your SEO competitive analysis must include your competition and be shaped by what they do, and what they don't do. So we need to run a SEO audit of our website.
If you are a lone player in a niche market then you don't have to worry about your SEO competitiveness, but if you are in a highly saturated market then your whole SEO strategy needs to become more complex and flexible.
Local SEO analysis is an amazing tool if you have a lot of local competitors and you offer your services to the local community. You must find a way to sell your services in a way that your opponents won't be able to.
Running a complete SEO audit will give us an idea where your website is in the SEO landscape and form our digital marketing strategy for the future.
Example of How SEO Analysis Works in Practice
SEO might seem a little confusing with the many different metrics, but let us show you how it works in practice.
Let's say you run a small travel agency and you want to boost your website visits for the upcoming season.
We do an organic search audit of your website and we get all the important metrics.
We determine what keywords and topics we will focus on and in what way we will write our content.
For example, in many cases people search for "vacation hawaii 7 days" – this is a commercial keyword, meaning the client is interested in how much that vacation will cost and what does he get for his money.
If the client searches for "best places for vacation on hawaii" he is interested in getting information about the subject and the keyword is informational.
Depending on which of these two keywords are more popular (have more search volume) we will make a sales landing page or a blog post. If there is more interest in informing our clients about Hawaii we will write a nice long article about the best places in Hawaii.
If on the other hand, our clients want to make buying decisions and are looking for additional information to help them make the decision we can make a sales page with offers for accommodation for the best hotels and vacation arrangments.
We should also look at what the competition is doing and how can we position ourselves.
The top results about "Grand Vacation Hilton Club Hawaii" we see only official websites as Hilton, Booking, Expedia, TripAdvisor which means we can rank good with a travel agency website if we incorporate keywords that will help us to rank locally.
So whenever someone from our targeted area searches for this keyword our page will pop up in the top results.
For example if we are agency from Toronto we want to rank first in Toronto area for this keyword.
On the other hand if the competition is ranking very well on some keywords and has already won the trust of the customers for some destinations, we don't need to compete for those.
We will find other destinations and try to promote them in a way that will make them desirable and a viable alternative to what our competitors are selling.
The second part of improving SEO is analyzing our website architecture and trying to optimize it, fixing any SEO issue you might have.
Often websites will have big images on their homepage that will be over 1 MB and this will slow their website speed a lot.
In other cases their content won't be structured properly with headers and Google will have a harder time reading it and indexing it. In some, there will be older content and dead links.
All these things make SEO worse for the agency's website.
Once we do all the optimization and content curation we will need to wait for a couple of weeks to start seeing results.
SEO takes a few weeks to show results but the effect is cumulative and once you create good quality SEO-optimized content then you reap the rewards for a long, long time.
Where Does my Website Rank Now?
You must ask yourself where do I start? Where do I rank now?
The simplest way to do an SEO analysis on your website is to search for your business on Google + add your general location.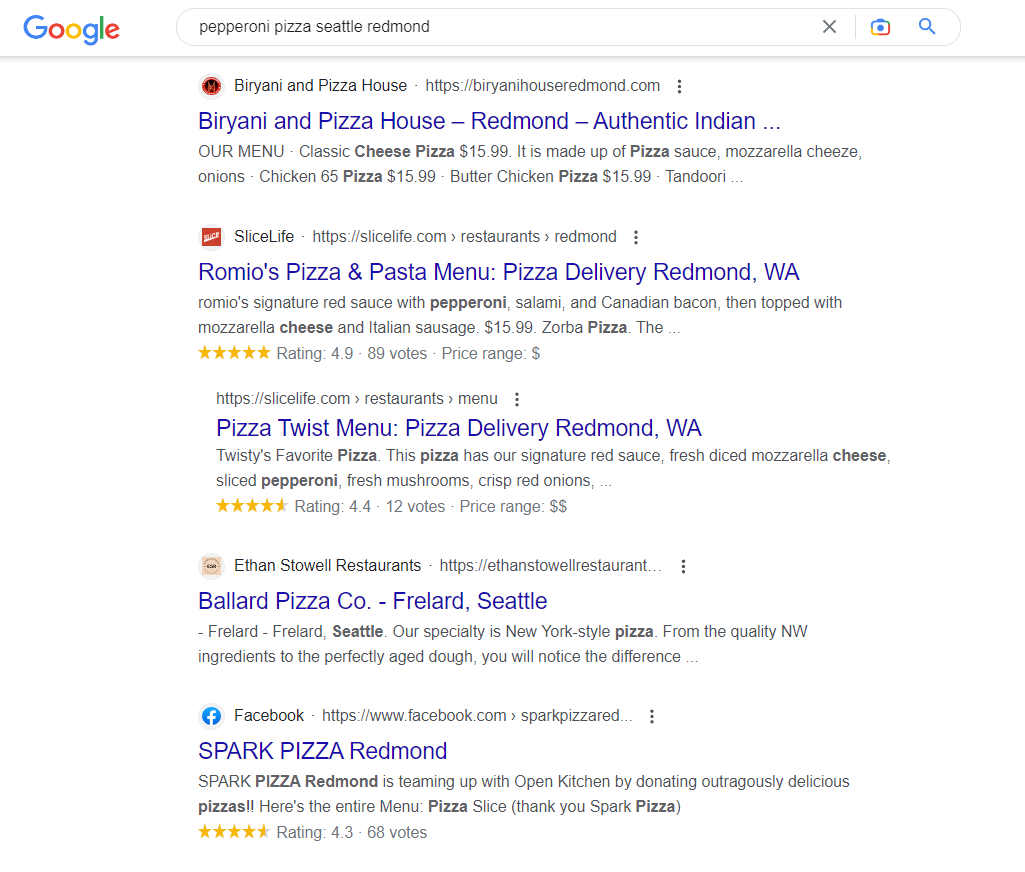 For example: pepperoni pizza seattle
Your business should be showing on the first page of Google search.
If you don't get any result that way try going even more localized by adding your town.
For example: pepperoni pizza redmond seattle
Do this with your most popular keywords and you will get a general feeling of where you are, and what should be improved.
Best SEO Tools for 2023
To analyze your website and get accurate results about your SEO there are free SEO tools.
Here are the best SEO analysis tools:
All of them give you free trial of great SEO features that will help you measure all kinds of SEO performance, from search traffic to broken links. Also each of them has a free Chrome extension that will make your life easier.
These platforms offer all-in-one SEO service for everything that is digital marketing realted. In the fre trial you can check your website's overall ranking for free, and if you want to see more SEO data about your website you will have to purchase a plan.
We at Oshara work with all three platforms and combine them to get the best results. Our digital marketers and SEO experts have over 10 years of experience with the best SEO tools and have managed to put hundreds of customers on the first page of search engines.
We can help you with everything from doing a complete SEO audit, fixing technical SEO and on-page SEO, to building backlinks and fixing broken links. Let us help you, contact us today!